Why Should We Hire you best Answers? – Job Interview Question
When Employer asks WHY SHOULD WE HIRE YOU? What she is really asking, "What makes you the best fit for this position?" This also happens to be the one question which every employer needs an answer to.
How do you answer it in a very assured manner without sounding pointless, or too self-assured or worse begging?
Why Do Interviewers Ask This Question?
The Interviewer is asking you directly to come up with points of differentiation in your background.
 

HR

is seeking giving you the open chance to sell yourself.
They want to know that you simply may help their company to prosper, and they want to hear that you really care about their prosperity.
 Interviewer want to understand your motivation.
They try to know the worth you'll be able to bring to their team.
Watch Video for more SAMPLE answers –
Research about the Company
Take a couple of moments to check the Job description along with your skills, moreover as mentioning what you have accomplished in your different positions. Be positive and tell your interest in the company and the position.
Research on the company within the job description, that is usually posted on the job board when you apply for the position. It'll usually contain a listing of "required skills and abilities".
Make a note of three or four of the employer's most distinguished 'wants', ones you actually feel you'll be able to fulfil and use these as the backbone of your answer. Concentrate on your unique qualities. Take some time to think about what sets you apart from others.
What Makes You Different from another candidate – Think about that and prepare a mentally prepared answer. In the Interview, you should sell yourself. Show them that by hiring you, they're gaining somebody unique and innovative.
Why Should we Hire You? – What you should

NOT

Answer: 
I am the best person for this job.
You should hire me because I'm better than the other candidates.
I need and want a

 Job

." that's nice, however, the bottom line here is, "What can you do for us?"
I'm a hard worker and really want to work for this company." the majority of individuals consider themselves as hard workers—and why this company?
Never directly compare yourself to others. Realistically, you are not going to know the strengths and weaknesses of your peers.

Why Should we Hire You? – What you should Answer: 
Create a Tailored Pitch and Practice
Hire me because I believe I meet the qualifications for the position that I'm applying for. I can work long hours and I really give my heart in everything that I do. My supervisor and my colleagues can attest to that.
So there's really no excuse for you to be unprepared, stutter, or make the other little mistake that would indicate that you aren't confident. Be confident, smile; make eye contact with each person. Convince them they should hire you before you leave the room today and get snapped up by another employer.
Then practice again with someone else. Don't memorise your answer, but know your three talking points and get them in. Don't repeat and don't ramble, you will lose your punch.
Evidence your Answer
Tangible proof to backup every of your points will prevent you from interviewer to verify your skill set.
For instance, if you say that you should be hired because you are analytical you would possibly say: "I think my highly analytical mindset and talent to crunch numbers quickly makes me a good fit for your company. This is something that I've shown during A, B and C work experiences."

Few Sample Answers For your Understanding: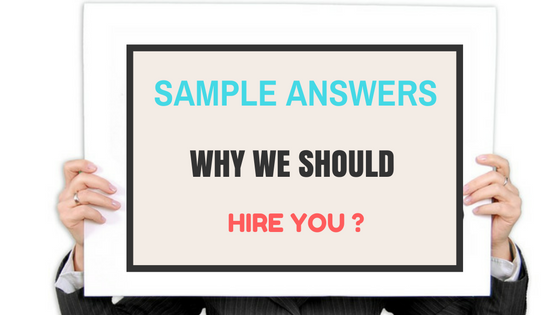 WHY SHOULD WE HIRE YOU?
1. I have Ideas for crafting a brand new marketing message which will more effectively tell the story of why this company is great and compel people to buy your products.
2. If you check out job profile and my skill set, I see 100% matches. I don't see any reason that I shouldn't be selected.
3. My Qualification and Skills might not match the job Profile; however, I actually have genuine Interest in this field that drives me to produce Work of the highest standard.
4. Your company provides several services that I actually have had expertise with, in a variety of capacities. I believe that my familiarity with the industry would make me an honest fit for this position.
5. I am good at communication skill and I have already trained technically that what the application that your company developing. I'm looking forward to an opportunity to prove myself.
6. As you'll see from my Resume, I actually have the necessary qualifications and several years of expertise. I am confident that I can bring something to the table that no other Candidate will.
We are not recommending that for everybody, be yourself and be genuine. We really hope this helps you make preparations for your next interview. Good luck!
Do you have any tips or experiences to share? We would love to hear them! Leave us a comment.